Getting Here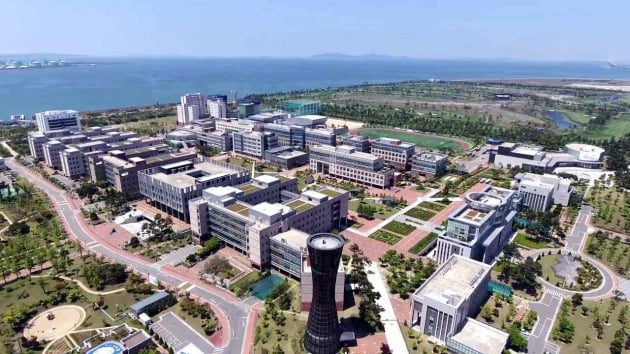 Airport
The Incheon National airport is ranked one of the top airports in the world and is just 20 minutes by car or bus from INU's main campus in Songdo and these are your best transportation options as there is no direct subway route to Songdo. Taxi is another option (about KRW30,000). There will be a toll cost of about KRW to cross the Incheon bridge if you rent a car.
---
Limousine Bus
One of the most convenient and efficient ways to get to and from Incheon International Airport is via a limousine bus (about KRW7,000). These buses travel to all major areas throughout Korea, and fares vary based on the distance traveled. Limousine and Premium Bus tickets are sold at indoor bus ticketing offices at Airport Exits 4 and 9, and outdoor offices at Exits 4, 6, 7, 8, 11, 13 and 9C. Take the 6707B route which stops at the Incheon Hyatt Hotel, Korea Coast Guard, Orakai Songdo Park Hotel, Benikea Songdo Bridge Hotel and Sheraton Incheon Hotel. Get off at the Sheraton Incheon Hotel and take a taxi or a local bus to the INU campus; just minutes from the hotel. Or, enjoy the walk. For more information on transportation, visit the Incheon International Airport website.
---
Car Rental
If you prefer to drive out of Incheon International Airport, you can use the Kumho and AVIS car rental services. There are two car rental outlets at exits 2 and 13 on the first floor of Incheon International Airport. Insurance is offered on all rental cars at Seoul Incheon Airports. Cars can be reserved in advance. The campus has plenty of underground parking for visitors and the fee is KRW1,000 for the first five hours or KRW3,000 for the whole day. You can see the road map at GoogleMaps, but the GoogleMaps phone app does not give turn-by-turn directions in Korea.
---
Subway
It can be a little complicated to ride the subway from the Incheon International Airport to Songdo as you will have to transfer from the Airport line to the Incheon line at Gyeyang Station. To buy a ticket, use one of the automated machines (KRW1,150). When purchasing your ticket, it is important to clearly state your destination. Get off at the the Incheon National University station and then walk or take the local bus/taxi to campus. Below is the subway map: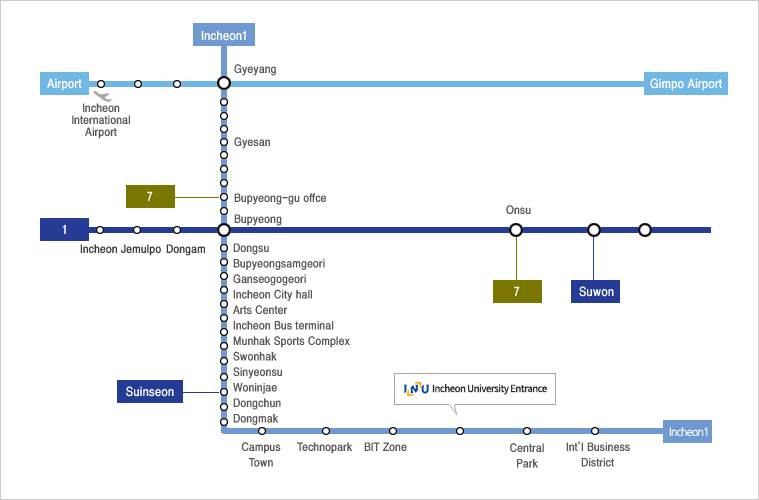 ---
Bus Stops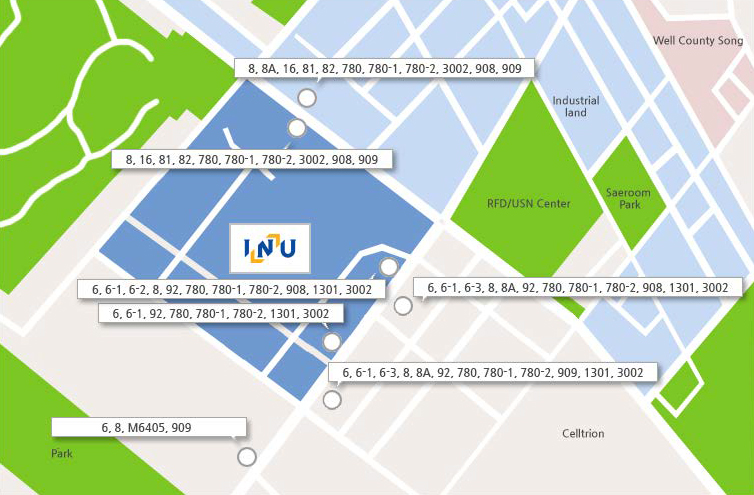 Blue Bus (6, 6-1, 8)

Express City Bus (780, 780-1)

Express Bus (908, 909)

Red Bus (M6405)
---
Campus Map